Medical Products Mold
Model No.

Intertech 0087

Made in

Taiwan
Medical Products Mold
Key Features
Intertech is a leading manufacturer for Medical & pharmaceutical equipment mold, plastic injection molding companies, medical devices mold and medical components mold and pharmaceutical product development mold in Taiwan. Intertech's services include prototyping, tooling, lab testing, sampling, pilot run, mass production and assembly.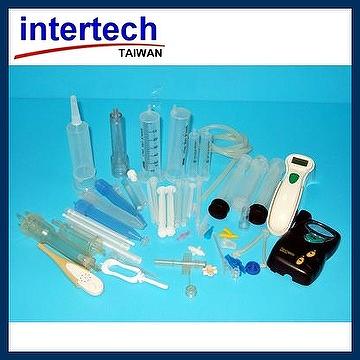 Ø Use SGS-approval, FDA-approval medical gradematerials for our medical molding services inhouse.
Ø Achieve with high quality,tight tolerance molded medical products in anyvolume.
Ø Not only specialized in mass production, we also placed an important role for low-volume molding projects for our customer.
Ø All of our molding works of plastic,silicone, silicone rubber, liquid silicone rubber, rubber or metal parts, are100% made in Taiwan with top-quality pursuit.
Our Professionals:
1. Makinginterchangeable cores mold : a most effective and cost-saving manufacturingprocess. Suitable for customers looking for "more variety but less quantity"solution. With only one mold, it can efficiently generate different kinds ofproducts,
2. Making hightransparent PC, Acrylic, PMMA, PET.. parts mold with high gloss polishing andMold-Tech texture on parts surface, applied mostly in lighting parts, outdoorLED parts projects.
3. Making gasassisted injection molds and products projects …mostly applied in projects likethe thick handles, monitors, the frame of TV cabinet etc, which prevents theshrinkage mark, improves the strength of the parts and saves material costs.
4 Medicalsilicone and rubber molds/products making : We manage both "solid" and "liquid"silicone rubber material meeting the standard of RoHS, FDA and REACH, and can be applied like skincare parts,medical earplugs, nipple pacifier, check valve, diving mask.
We produce many kind of different molds, if you are interested to our other products.
Please visit our company website!
www.taiwanmoldmaker.com
www.intertech.net.tw
---
Recommendations
---
Small Order Recommendation